Bio-based Materials for Performance Optics & Eyewear
SUSTAINABILITY & PREMIUM PERFORMANCE FOR EYEWEAR
Arkema is the leader of high performance and biobased materials for optical applications, coming from castor oil.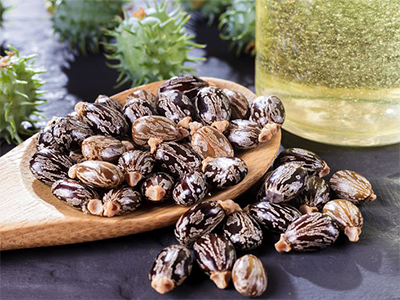 Castor oil has a favorable environmental profile when it comes to making high performance polymers.

The castor crop is inherently drought resistant, requiring very little irrigation or fertilization and do not compete with food. It can grow in arid regions of the world where little else can be farmed.
All our Rilsan® and Pebax® materials are BPA free.
High Performance Materials for Optical applications
Rilsan® Clear : For bio-based transparency
Arkema is the first manufacturer to provide high performance, bio-based transparent polyamides. Rilsan® Clear materials are ideally suited for optical solutions with high performance properties, offering lightweight, high transparency, flexibility for comfort and chemical resistance.

Arkema offers two major references, especially developed for the injection of frames:


Rilsan® Clear G850 Rnew: flagship material of our range, this grade contains 45% bio-based carbon. It is especially designed for injection molding applications and ideally suited for high end eyewear frames.
Rilsan® Clear G820 Rnew: this grade contains 62% bio-based carbon and provides outstanding chemical resistance. Offering a high flowability, this material can be injected even for challenging designs and is excellent in overmolding, even over itself.
Pebax® Rnew® : Bio-based elastomers
Arkema is the leader of high performance and bio-based elastomers, containing 30% to 97% biobased carbons coming from castor oil (based on ASTM D6866).

The Pebax® Rnew® elastomers offer a wide range of flexibility, lightweight and has a high impact resistance. Moreover, it offers a good overmolding with Rilsan® Clear, offering complete freedom for designing frames and allowing for easier recycling.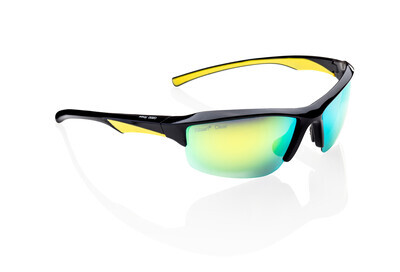 Rilsan® PA11 for 3D Printing : 100% bio-based
Long-chain Polyamides are the reference materials in powder bed fusion processes like laser sintering (LS). This technology is used for manufacturing small series of personalized and uniquely designed frames.

Arkema offers Polyamide 11 fine powders, providing flexibility, rigidity, and impact resistance that other 3D printing plastics cannot obtain while being 100% bio-based.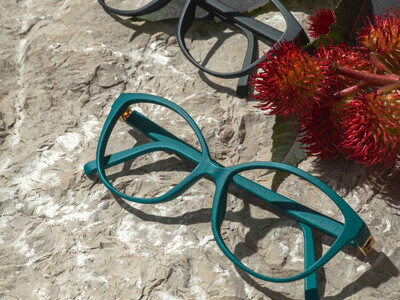 Advanced Bio-Circular Materials for Eyewear Solutions Brochure
See what our customers are saying
IZIPIZI, the more sustainable Child Sunglasses
Aiming to be here for you at every stage of life, right from the start: IZIPIZI is producing their CHILD models with bio-based material.
Ultra-flexible, bisphenol-A free, hypo-allergenic and sustainable, IZIPIZI frames are perfect for babies' daily adventures, from 0 to 5 years-old.
IZIPIZI is also switching their material for adult glasses to RILSAN® Clear G850 Rnew®, making their product offer even more respectful of the planet.
RUDY PROJECT
Rudy Project combines its distinctive edgy design, advanced lens technology, and superior comfort in a frame built with Rilsan® Clear high performance sustainable and bio-based polyamide. Rilsan® Clear was chosen for its lightness, chemical and fatigue resistance, flexibility, and extreme toughness and durability.
VUARNET sport collection
"Vuarnet invested a lot of time in selecting the material for their future eco-responsible sport frames, and with the help of the Tara Océan Foundation, they finally chose a revolutionary material from the [castor] plant: RILSAN® Clear G820 Rnew produced in Normandy by Arkema. It's a water-efficient plant that grows using sustainable agricultural practices. Vuarnet mentioned that "This material retains essential technical properties such as lightness, flexibility, shape memory and resistance over time. Using bio-strengthened nylon reduces our dependence on oil. All Vuarnet's sport range is developed with bio-nylon."
JULBO
JULBO didn't wait for it to be fashionable to make its products more sustainable. That's why we use RILSAN® bio-based polyamide for several years.
JULBO has been using this advanced material on over 75% of sunglasses range because of its environmental qualities and technical benefits to ensure lightness, flexibility and durability.
BOLLÉ EYEWEAR
Part of Bollé's REACT FOR GOOD sustainability approach, the Eco Blanca ski googles are a great example of eco-designed product among a wide range of winter sports equipment using our high-performance bio-based materials. Produced from renewable castor oil, they offer a more sustainable alternative to fossil-based polymers.
Looking for technical data?