Immobilized Media Technology
The Challenge for Global Water Supply
Globally, there is an enormous demand for higher quality drinking water.
Almost a billion people on the planet do not have easy access to clean drinking water or basic hygiene. The continued drive toward urbanization puts more and more pressure on our ability to make dirty water clean. Simultaneously, agricultural water is being recycled more and more without adequate retreatment – a vicious cycle that puts even more pressure on the filtration challenge.
Recent studies have shown that lead is present in some US schools and in municipal drinking water systems of many US cities. This has highlighted the need for consumer awareness and improved methods of filtration targeting disinfectants such as chorine and chloramines, volatile components "VOC's" and now heavy metals like lead (Pb) and mercury (Hg). Arkema addresses heavy metals Pb and Hg with their functionalized binders FX415 and FX316. While we are confident our functionalized Kyblock® binders provide the best performance for Pb and Hg, we recognize there are other additives often used for Pb and Hg and other heavy metals like arsenic. Kyblock® binders are compatible with the common additives used by the water block industry for Pb and Hg but also for additives like Activated Alumina, Iron Oxide, and Zirconium Hydroxide, which are often used for adsorption of Arsenic.
Carbon block immobilized media filters have become the standard for filtering contaminants from household water supplies at both Point of Use (POU) (refrigerators and sinks) and Point of Entry (POE). While Arkema has historically addressed water filtration and drinking water with our Kynar® PVDF for filtration membranes, we have also developed a new, NSF61 certified binder technology for improving immobilized media filters: Kyblock® binder.
With Kyblock® binder, more efficient carbon block, immobilized media filters are possible thanks to the increased adsorption capacity and/or flexibility for smaller designs. Consumers will then benefit by getting superior quality drinking water for a longer period of time!
DOWNLOAD THE KYBLOCK® BINDER FOR FILTRATION AND DRINKING WATER LEAFLETS

A world of opportunities in Industrial Applications
Kyblock® binder is both chemically and thermally resistant making it ideal for industrial applications. Thus, Arkema Kyblock® binders enable the use of immobilized media in harsh environments that historically were not viable with low performance, alternative binders.
In addition to activated carbon, Kyblock® binders can and have been used with other media, including: zeolites, molecular sieves and other additives for improved adsorption performance in both water and industrial applications.
From liquid filtration to gas storage, there are innumerous markets and applications where Kyblock® binders can improve your current loose media system. Immobilizing your media with Kyblock® binder offers multiple benefits:


Eliminates tunneling


Increases volumetric adsorption capacity


Easy handling for manufacturers and users


Decreases fines and downstream contamination
Kyblock® binder can be compression molded or extruded as illustrated to the right.
Download the Kyblock® Binder for Industrail Filtrations ans Gas Storage Leaflets
Kyblock® High-Performance Binders:


High chemical resistance


High temperature resistance (up to 150°C)


Low fouling


Low binder loading


Enables improved adsorption capacity of VOCs, chlorine, chloramine, heavy metals: Pb, Hg


Improved retention of fines and small particle size media


Reduced initial flushing of block


Improved Block Process Productivity


Optimized Block Geometries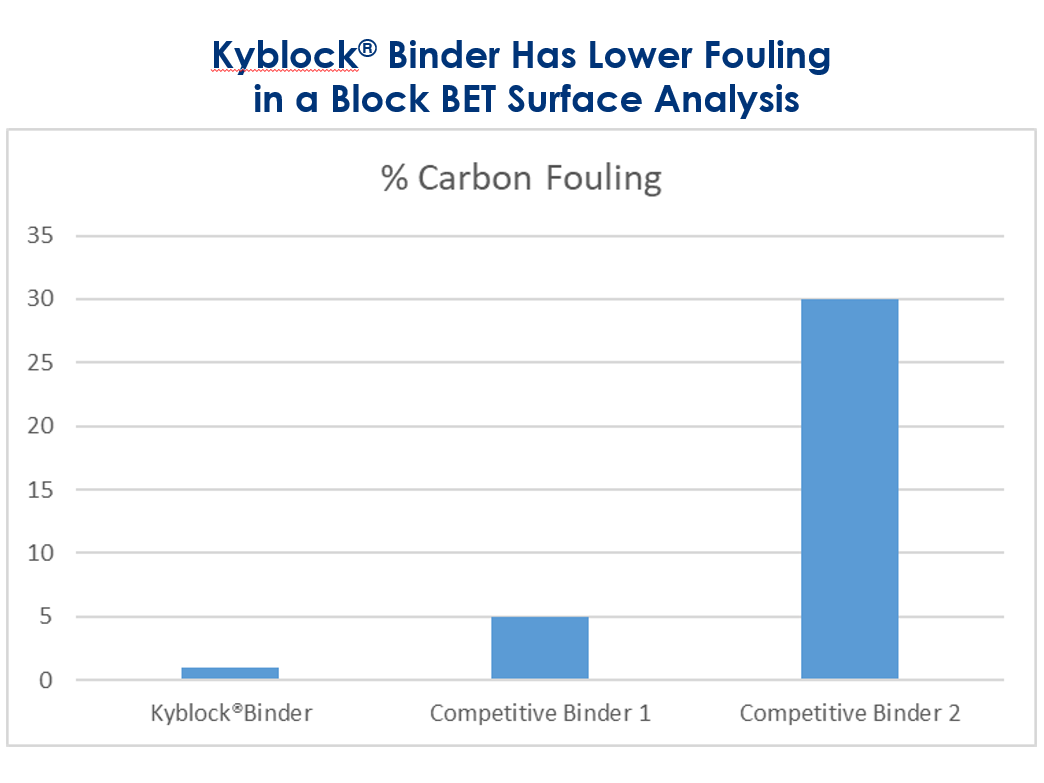 Contact our Water Filtration team
We understand your challenges and we're here to help. No matter where on the planet you are, we've got resources to help you. Our global Kyblock® Binder test labs are located in the USA and China– and we have regional relay technical support in Americas, Europe and Asia. Let us help you today with:
Model formulation

Process optimization

Prototyping of blocks for feasibility

Physical characterization

Optimized Block Geometry for tunable pressure drop flow

Co-development

On-site lab trials and training
Looking for technical data?