Compounding World Expo North America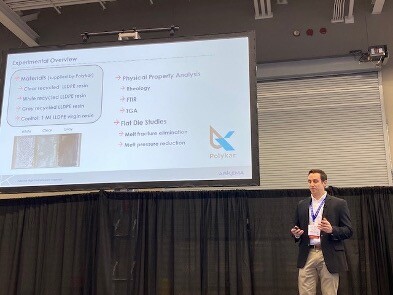 The Arkema Fluoropolymers team recently exhibited at the Compounding World Expo North America. Robert Lowrie, Market Manager, Polymer Processing Aids, presented a white paper at the conference titled "The Effect of Fluorinated Thermoplastic Processing Aids in Film Processing of Recycled Polyethylene Resins."
Arkema demonstrated that Kynar Flex® PPRA can substantially assist in improved processing, profitability and use of recycled plastics in everyday products – leading to more circularity in important segments of the plastics industry. The data that was generated for this presentation came from materials supplied by Polykar, a world-class manufacturer of sustainable packaging solutions including environmentally friendly industrial garbage bags, compostable bags for organic waste collection, food packaging and recycling polyethylene.
Data generated by Arkema showed that the addition of a Kynar® PPRA resulted in an approximately 20% reduction in extruder pressure, while simultaneously eliminating melt fracture of the polyethylene resin.
This significant finding suggests that recyclers and other converters who are currently pressure limited on their processing equipment, can consider adding a Kynar® PPRA to their process. The addition of the Kynar® PPRA can increase their output of recycled products without the need to invest in additional processing equipment.
"We are very grateful for Polykar's support in this study," Arkema's Robert Lowrie said, "both Polykar and Arkema operate with Sustainability as a key company value, so it was privilege to work with them on this study."
"Progress happens when we bring together the right companies with the right motivations. Sustainability is something that matters to us all. As such, our goal is to continually improve the productivity and performance of recycled resin to increase the use of recycled content across a wide range of packaging applications. We certainly appreciate Arkema giving the opportunity to include Polykar in this important study."
Arkema thanks Polykar for their collaboration, and the team looks forward to continued material innovations for a more sustainable world.
For a copy of the white paper, please email Robert Lowrie at robert.lowrie@arkema.com.