Kynar® PVDF Water Filtration Membranes
High Performance Kynar® PVDF for High Performance Membrances


Easy processing (both NIPS and TIPS) of hollow fibers


Consistent macro-void free structure


Tremendous strength, ductility, resilience


High gel strength, good spinning stability


Uniform pore size and high permeability/throughput


Suitable pH range: 1-13


Radiation resistance: e-beam, gamma radiation, steam, chemical methods
Extreme Chemical Resistance & Toughness
Tremendous resistance to harsh halogenated chemicals (Chlorine, NaOCl bleach, Chlorine dioxide, Chloramines) and acids, peroxides, aromatics, ozone and other oxidants

Improved toughness and ductility

Less cracking/breaking during turbulent water flow (both outside-in and inside-out/backflush flow conditions) and air-scouring operations

The result is a membrane that is more durable, requires less maintenance (less down-time) and is tougher than PSU and PESU alternatives.
Extreme Chemical Resistance
*PES and PSU are too brittle to test after Cl and Br exposure
Let us save you years of R&D. Allow us to help you optimize your fibers :
Model formulation

Membrane spinning conditions

On-site lab trials, training

Field technical support

Characterization - physical & chemical

Regional support across the globe
This graph demonstrates the truly exceptional chlorine and bromine resistance of Kynar® PVDF grades. As more and more pressure is placed on municipal and industrial treatment facilities to "do more, with less", there is a greater need for extreme materials that can resist extreme conditions.
AN EXTREME WORLD
NEEDS EXTREME MATERIALS
Longer Lifetime in Halogenated Environments: Life expectancy in Cl- ppm hours for PES is 50,000; Kynar® PVDF is 1,000,000
A graphical depiction of Kynar® PVDF water filtration membranes with a hydrophilic copolymer
Kynar® resin offers durable hydrophilicity through a proprietary grafting process whereby hydrophilic blocks on the surface of the PVDF are permanently anchored by copolymerized PVDF-miscible blocks.
Tailored functionalization is a core strength of the Arkema water membrane development center.
High Throughput After Repeated Cleaning Cycles
This graph demonstrates the retention of high throughput (flux) of Kynar® resin after repeated washing/backflush cycles compared to two other commercial PVDF membranes.
View the Kynar® Product Family Page for More Grade Information
Select the Right Grade of Kynar® PVDF for NIPS or TIPS
Depending on the filtration process and specific formulation space, Arkema can recommend several grades.
| | |
| --- | --- |
| NIPS Flat Sheet | |
| NIPS Hollow Fiber | |
| TIPS Hollow Fiber | |
Each of these grades is completely soluble at 5-20% solids in each of the following solvents at ambient temperature:
Dimethyl Acetamide

N-Methyl-2-Pyrrolidone (NMP)

Dimethyl Formamide

Dimethyl Sulfoxide

Triethyl Phosphate

Tetramethyl Urea
A Viscosity to Match Your Process
Typical Viscosity in NMP (cps)
% Solids
10%
15%
20%
Kynar® 761
500
2000
12000
Kynar® 761A
1000
5000
25000
Kynar® MG15
1700
9500
52000
Typical Viscosity in DMAC (cps)
% Solids
10%
15%
20%
Kynar® 761
220
1000
5500
Kynar® 761A
450
2500
13000
Kynar® MG15
800
4800

25000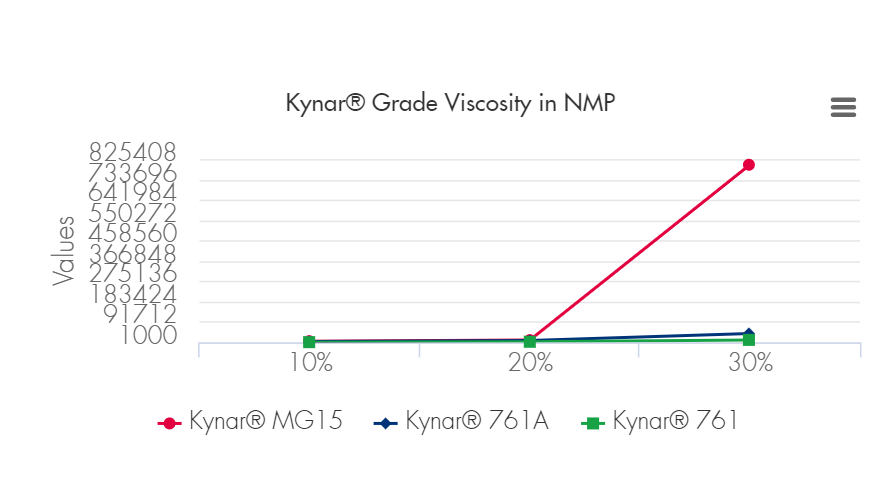 Regulatory Listings & Approvals
Certain Kynar® grades are approved for the following regulations. Please speak to your Arkema representative for grade-specific details.
ORGANIZATION

REGULATION

National Sanitation Foundation (NSF)

NSF-61 Potable Water, NSF-51 Food Equipment, NSF-14 Plumbing System Components

Food & Drug Administration (FDA)

177.2510 & 177.2600 Repeated Contact with Food, 177.1520 Single-Use Adjuvant for Use in Polyolefins

1% Concentration

United States Department of Agriculture (USDA)

Use in Process or Storage Areas to Contact with Meat or Poultry Food Products

3-A Sanitary Standards Inc. (3-A SSI)

Multiple-Use Plastic Materials Used as Product Contact Surfaces for Dairy Equipment

United States Pharmacopeia (USP) Class VI

USP Class VI

Chicago Rabbinical Council (CRC)

Kosher Certified
The Challenge for Global Water Supply
Globally, there is an enormous demand for superior / higher efficiency water purification processes. Almost a billion people on the planet do not have easy access to clean drinking water or basic hygiene. The continued drive toward urbanization puts more and more pressure on our ability to make dirty water clean. Simultaneously, agricultural water is being recycled more and more without adequate retreatment – a vicious cycle that puts even more pressure on the filtration challenge.
Municipal treatment facilities are forced to do more – often, without the ability to expand their operation. Consequently, they must achieve higher throughput rates – with less down-time and must use harsher and stronger cleaning agents to rehabilitate their fouled membranes.
This extreme challenge makes Kynar® PVDF an obvious choice. For decades, Kynar® PVDF has proven itself as a world leading technology in chemical resistance and durability – while being easy to process and install. Engineers all over the world know that Kynar® is a trademark for reliability and peace of mind.
Speak to the Right Person
We understand your challenges and we're here to help. No matter where on the planet you are, we've got resources to help you. Our global Membrane Innovation Center is located in King of Prussia, USA – and we have regional relay technical facilities in France, China, Korea and Japan. Let us help you today with:
Model formulation
Process optimization
Membrane spinning conditions
Field technical support
Physical characterization
Co-development
On-site lab trials and training
Contact Us.
Looking for technical or regulatory data?